After a few long months of planning and preparation, and some not-inconsiderable beauracratic wranglings, I'm happy to finally launch a new project: the Parkour Clinic!
Ever since graduating as a sports therapist earlier this year, I've been looking for something to do that used my hard-won therapy skills, but more importantly was also useful. I'm going to continue studying with a Masters degree starting in October 2020, but until then, the plan initially had been to fill my summer months by looking for some actual real work treating real patients. You know, like a real sports therapist, which I am now. 1
Unfortunately, my graduation turned out to be bang in the middle of the covid-19 / coronavirus pandemic, and so setting up (or joining) an in-person sports therapy clinic became… somewhat impractical. Besides, even at the best of times, setting up my own clinic would involve a potentially large investment. So, I started looking into options for delivering therapy remotely.
It turns out this is a solution that the sports therapy (and physiotherapy) world is exploring more and more. The increasing focus on patient education and exercise prescription over hands-on therapies like massage means that a lot of effective therapy advice and guidance can be delivered over a webcam. 2 This allows therapists to reach a much wider audience and potentially help a lot more people than just those who can physically attend a clinic session. And, delightfully, most of the things you need - a website, a booking system, and a video calling platform - can be setup for free these days. 3
Parkour has played a big role in my life, changing my career, social circle, and health. It did all this, basically, for free. So once I realised the cost to myself would be minimal, and could be run in my spare time, offering an online sports therapy service for the parkour community that was also free seemed a good way to give back to something that has given me so much. Once I had the idea, I couldn't at least try it.
Parkour Clinic
So here it is - Parkour Clinic, offering free online sports injury therapy advice for parkour athletes.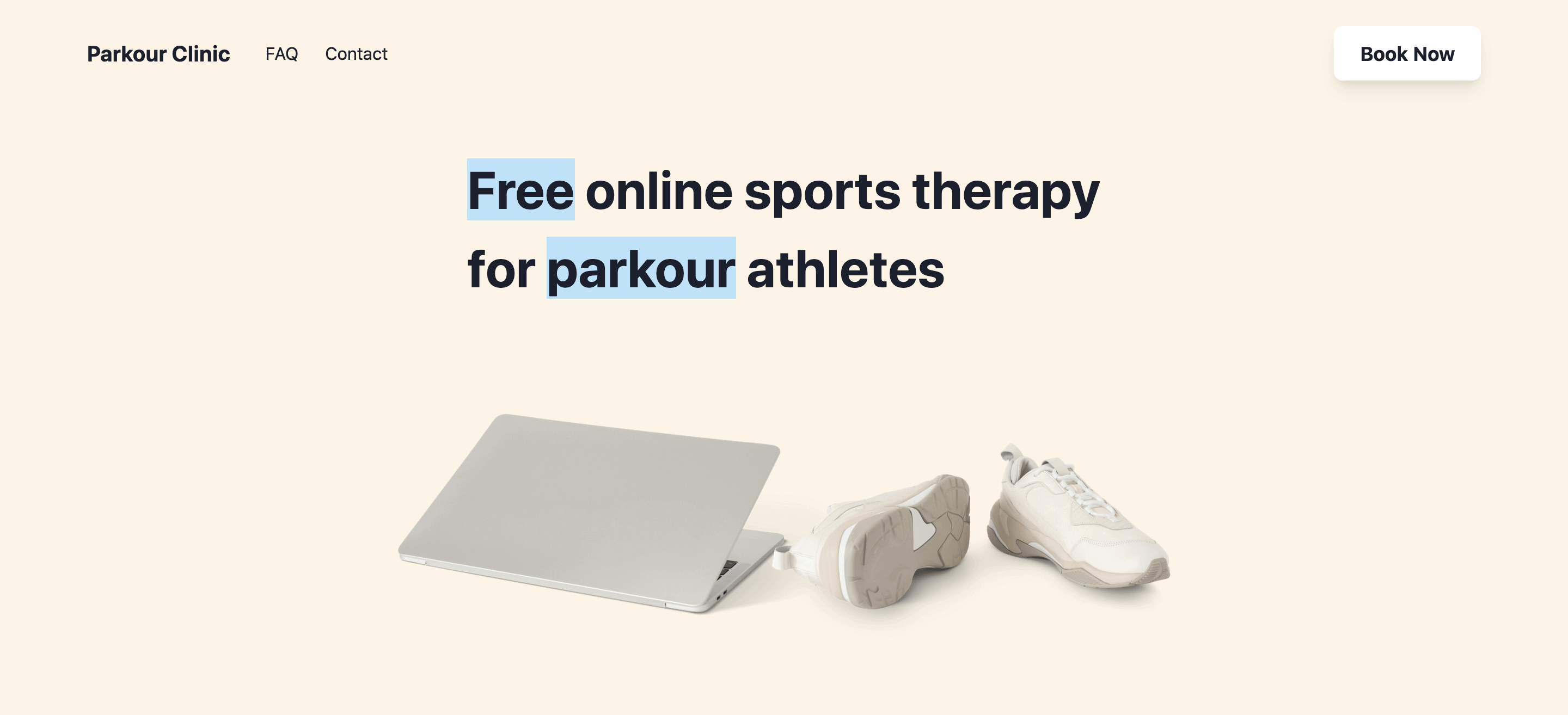 I recommend checking out the clinic FAQ for more detailed information on how it works, what sports therapy is, and how it can help you. And, you can always send me a message if you have any questions not answered on the site.
You can also connect on social media if that's your cup of tea, with @parkourclinic on:
Please consider sharing word of Parkour Clinic with your friends and parkour community!
And when you're ready to make your appointment, book now and I look forward to speaking to you soon!
---
Still doesn't quite feel real after studying it for so long! ↩︎
I'm grateful to the likes of Adam Meakins and the Better Clinician Project for opening my eyes to the possibilities of this approach. ↩︎
With the trade-off usually being the time and knowledge you invest in it - I did a lot of research setting up with the right tools, and building the website by hand instead of using a pre-built host like Squarespace. Buying off-the-shelf solutions might cost you, but it sure is quicker. ↩︎